So many homes across the land use antiquated devices like those old window-mounted mercury thermometers to monitor temperatures. And that rusty eyesore only shares a little bit of information compared to the information you could have. In this day and age of smart technology, there's a much better way to get all your weather-related information – quickly and easily – from the palm of your hand.
Here's a smart device that will do just that. It's a complete weather monitoring kit for the budding meteorologist or weather buff. The Netatmo is a package consisting of two separate modules – so you're covered for both indoor and outdoor conditions.
Widespread Smart Compatibility
Netatmo Weather Stations are fully compatible with iPhone, Android and Windows devices – so you can connect wirelessly for up-to-the-minute information of interest for your indoor and outdoor environments.
The Netatmo is a prime example of the convenience of state-of-the-art technology. Take the IFTTT channel for instance. Currently there are 17 different triggers you can set up for a variety of conditions such as oncoming rain, rain no longer being detected, noise levels, carbon dioxide levels inside your home – just about anything. It's useful information – delivered straight to your device.
The weather station's indoor module serves as a home base. This device should be plugged directly into the wall outlet and remain operational to continuously monitor and record the indoor conditions it experiences. Most of us spend more than three quarters of our time indoors, yet we don't pay enough attention to the quality of the air we breathe. It's time to pay closer attention and do what can be done to make the air inside safer to breathe.
Get Alerts On Your Smart Phone
The mobile app is designed to give you access to your weather stations information from anywhere. That's just another added feature of the Netatmo weather station that comes in handy when you're away from home – whether it's just across town or halfway around the world. Having this kind of access is a beautiful thing.
This cool Netatmo Weather Station sends you alerts when conditions deteriorate so that you can take necessary actions, like opening windows throughout to air out your home. At the same time, the outdoor station allows you to track and monitor local weather conditions so you can plan your outdoor activities accordingly.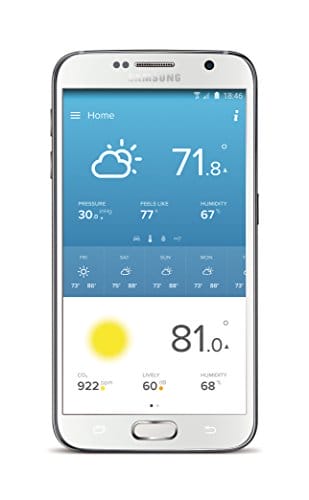 How cool is that? No longer are you relying on those often incorrect weather reports from local radio television. Instead, you're getting accurate weather data that actually means something because those instruments are gathering their information from your exact location – not from dozens of miles away.
You decide which conditions matter most to you and set up notifications. Then you simply go about your business, living your life. You'll be notified accordingly – so you don't have to keep an eye on things. And then you can take the appropriate actions. For example, should the humidity level rise indoors and create conditions where mold can thrive, you'll be alerted. Additionally, you can be notified when rain is imminent, so you can change up your outdoor plans instead of getting caught off guard and drenched as a result.
Stylish Technology That Empowers You With Information
These are pretty slick devices. Both Netatmo Weather Station modules are gorgeous with their sleek, stylish, and innovative designs. What you get is essentially a one-piece aluminum design and cylindrical shape that looks as state of the art as it is. And it is extremely helpful in the information it provides.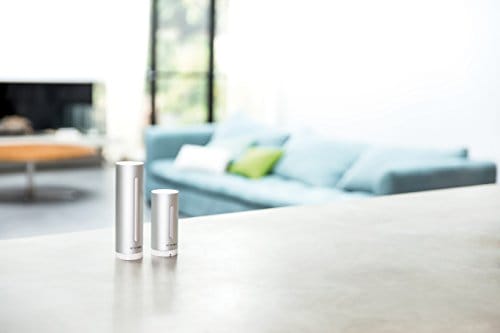 You can show it off to your friends and trigger their curiosity. Then you can blow them away with the kind of details those television meteorologists like to share. Geeky? Maybe to some people. But to those of us who take more than a passing interest in the changing environmental conditions, the Netatmo is a fun and informative instrument to own.
Set up is relatively easy. But as with all new devices it's best to study the instructions to get an overview before you start trying to figure it out yourself. Your base station serves as a central hub – so you'll want to set it up first. It can then communicate wirelessly with all the other related sensors.
There are so many ways you can use the Netatmo Weather Station modules. For example, you could use it to automatically shut off your automatic watering system when the skies open up and the rain begins. Or you could use it to monitor the impact of your indoor air as a landscaping crew works over your neighbor's property, right next door. These are helpful devices that can serve in multiple ways.
Makes A Great Gift For Someone Special
For the weather enthusiast, the Netatmo Weather Station makes a perfect gift. They can become your personal weather station for keeping tabs on both indoor and outdoor air quality and weather. You can also receive local air quality index reports in real-time. It's the complete package.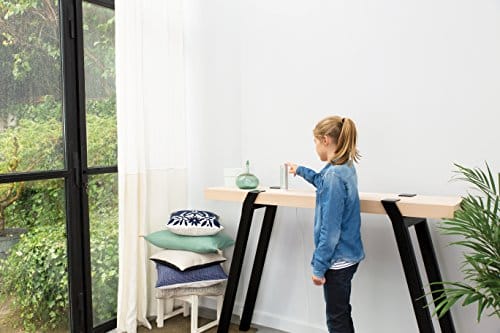 The Indoor module of the Netatmo Weather Station measures 1.8 inches by 1.8 inches x 6 inches high while the outside unit measures 1.8 inches by 1.8 inches by 4.1 inches high. Each housing is made of a single cylindrical piece of aluminum that's UV resistant. You'll want to protect the outdoor unit from rain and snow, however.
The inside unit is powered by a USB wall adaptor (110 volts AC) that plugs directly into any standard wall outlet. The outside unit is wireless and powered by three AAA batteries that can last up to two years. You are covered by a one year warranty that's included with your Netatmo Weather Station purchase.
Compatible and Worthwhile Accessories
There are several additional sensors available at an added cost that make your Netatmo an all-in-one, complete weather station. The Wind Gauge and Rain Gauge are particularly important in rounding out the full set-up. You can also purchase additional indoor modules to keep tabs on air quality in different rooms around your house. There's also an optional mount that makes it super-easy to set up your indoor and outdoor modules.